SIEM
Surveillance system and intrusion detection
FortiSIEM technology and Microsoft Azure Sentinel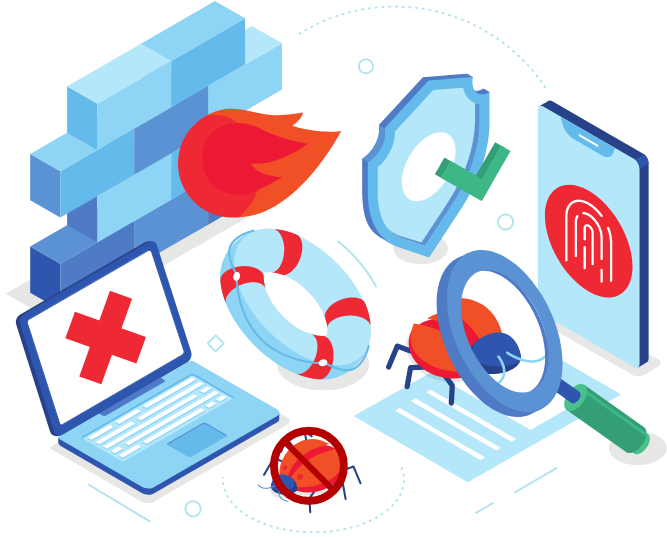 Cybersecurity: a vast perimeter to defend, played on multiple chessboards.
To always be ahead of IT threats, we constantly monitor event logs and the performance of your IT infrastructure. Our SOC (Security Operation Center) classifies these events, analyzes them, and initiates remediation processes according to the level of priority.
Our solution adapts and connects to most technologies on the market to ensure the collection of maximum information and the protection of all your assets.
The collectors are installed in your systems, collect the information, and send it to our SIEM which then takes care of the analysis, correlation, and alerts.
What does SIEM mean?
It is an acronym of the English expression "Security Information & Event management" whose French version is GIES (Gestion des Informations et des Evénements de Sécurité), an artificial intelligence (AI) system using predefined rules or statistical correlation to determine whether there are links between different event logs to detect unusual or potentially dangerous network activities.
Advantage
As an organization, you should be able to continue to be at your best today and build your future with peace of mind. We take care of the cyber threat and its harmful consequences for the conduct of your business.
The strength of our service
Whether it is our internal algorithms developed to investigate the Dark Web or those carefully selected by our partners, cyber intelligence remains at the heart of our cyber security practice.
Our extended in-house team is made up of over 50 top experts who globally support multiple technologies and hold multiple certifications.
CONSOLIDATE / UNDERSTAND / REMEDY
IT threat detection service
Monitoring suspicious activity on workstations, servers, and network equipment
Monitoring your information on the Dark Web continuously
Monthly meeting with a security expert

SIEM Managed Security Service
Comparison of managed SOC / SIEM services
| Service | Description | Base | Advanced |
| --- | --- | --- | --- |
| Security event management | Management and monitoring of security events | | |
| Monthly report | Monthly report and dashboard that summarizes events by category | | |
| Incident management | Setting up the right playbooks for your business to handle incidents | | |
| 8/5 Alerts | 8/5 communication of High Category Alerts | | |
| 24/7 Alerts | 24/7 communication of High Category Alerts | | |
| Multi-Manufacturers Collector | Our solution connects to the majority of technologies on the market | | |
| Event archiving | Archive of medium- and long-term events | | |
| Multi-level alerts | Multi-level alerts on data movements, atypical behaviors, deviations, and geolocation | | |
| AI analysis | Use of machine learning to continuously improve responsiveness to the different identified behaviours | | |
| Integration API | SIEM has a REST API that allows any external system to integrate into the CMDB, make event queries and send alerts | | |
| Automation of actions | The majority of actions can be automated through use cases and scripts | | |
| Monthly Vulnerability Report and Meeting | A report and a meeting with a cybersecurity expert to discuss identified events and recommendations | | |
| Quarterly Report and Vulnerability Meeting | A report and a meeting with a cybersecurity expert to discuss identified events and recommendations | | |
| Dark Web monitoring | Continuous monitoring of your credentials (passwords) on the Dark Web | | |
Don't wait for a cyberattack to target you!
Hackers won't wait, contact us to protect you before it's too late.